Archive : July2012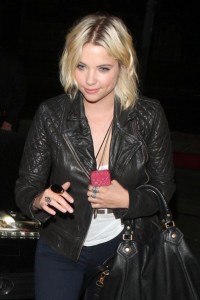 Famous people are known by master work done in their field of interest. People start admiring them and want to be the one like them. Royalty and fame both balance coordination makes perfect admirable face in society. Some are adorable by their work; some are by good looks and so on.
Even celeb from their side makes sure that whatever they do should be just picture perfect and that's the reason many of well known people do give prominence to their looks and wearing. They have their own designer, expensive and highly attractive apparels and so on. Well celebs even known besides their fans there are also group of people who keeps eye on their every step as known as critics. So these famous even do not want to stand as worst dressed celebrity even if they desire to look unique.
In this way these fame have started showing their common love for variant types of leather jackets. It is very different from professional wearer jacket such as racer or one of aviator. Celebs love both these types of leather jacket but in replica form.
The leather jackets which is being made to wear by celebrities are very much supple and soft high expensive quality leather. Not necessarily the one from skin hides only but also in faux or combined leather (mixture of skin hide and synthetic material or other garment).
The silver screen personalities have never fenced themselves from wearing of leather jackets. Since from James Dean black and white movies until today high definition color films most actors have wore tanned skin jacket that had also regards their personality.
From films to award function even in personal out of reel life celeb have shown admirable versatile wearing with variant leather jackets. Many a films is been recognized by the stylish jacket. The recent movie that was in news for courage leather jacket is "The Hunter Games", in which the lead actress made a prominent appearance while pairing up jacket with leather boots, bow and adventurous overall looks.
Even celebrity kids are also know for wearing cutest and sweetest leather jackets that graces their childish personality fruitfully especially in winter season.
From feminine to male fames has loved wearing leather bomber jacket. It is replica of original aviator jacket. Thus, this fancy leather bomber jacket is made of lambskin. Lambskin provides great suppleness then any other skin yet makes it wearable for any changing season. It is one most expensive form of leather jacket.
Every celebrity has it own favorite designer but it is universally have adorable designer too. Balmain leather jackets are another hue among the celebs. Even these high profiles known that Balmain jacket is such an expensive jacket that very few of celebs do prefer to buy it. Balmain jacket's shoulder is eye catchy part of it. It gives especially feminine a sleek and tone up definition. It is detail with rich, attractive embellishments.
Celebs do prefer to spend much of their expense into the leather jackets. It helps to grow up well-known publicity while presenting smart and dashing among other competitors.