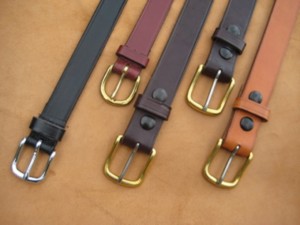 Today with the booming leather fashion, most of the accessories and outfit that come under leather fashion are designed in diverse styles and colors that make them appear stunning when worn by any individual. In the large count of accessories designed in leather, belts are the ones that are adored by most of the men and women worldwide.
These days leather belts are styled in casual as well as formal pattern that allow every individual to choose the one, which goes with their needs. If ever you plan to buy leather belt always go for the one that is made using pure leather material as they are the one that are designed in an elegant manner. One of the best pieces to go for in belts is the ones that are made using calfskin, ostrich skin, and lizard skin as they are styled in a very detailed manner. The best thing about these leather belts are they easily go with every outfit may it be formal wear or casuals.
If asked about the happening styles in leather belts then there are three styles in belts that are at the top in the leather fashion –
• The Basic Style in Leather Belt– though the market is filled with a range of leather belts the basic single strapped leather belt is the one which can never goes out of trend from the market place. This particular leather belt is designed in a very simple way that varies in length and size. Most of the people prefer single strapped leather belts in brown and black which is the basic shade of natural leather but these days single strapped leather belts are produced in various shades that are obtained by dying. Colors like red and teal are the ones that are adored by most of the people these days.
• Trendy Braided Belts– like single strapped leather belts, braided belts are also one among the stylish belts that have seen the fashion market from past few eras. The durability of this particular leather belt is far more than the other styles of leather belts. Braided belts are designed in a very simple manner by just attaching a standard buckle to it. Braided belts can be worn over every casual and official outfit to give out a finished appeal.
• Modish Decorative Belts– This leather belt is a great hype among most of the teenagers and the people who like to go with the changing fashion culture. Decorative belts are styled in a very distinctive way by adding studs, illustrations, and prints over it that truly make the belt appear stunning. Most of the people team up this leather belt with casuals as they give out peppy look especially when worn with loose tees.
If you really want to phase up with the fashion then it is really necessary for you to adopt the trend that is happening in the market place.
Comments