Archive : February2012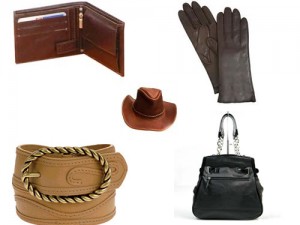 Leather articles have been in use since many centuries. These accessories soon gained an eminence among people due to their beauty, longevity and strength. People went to expand the zone of leather articles and many innovations set in to bring out newer articles.
Some of the leather accessories we commonly use are as follows:
Leather Belts: These are indispensable part of people's wear who are enthusiastic to look classy all the time be it any regular or a special day. They can be used by both men and women. Made from cowhide, lambskin and other materials; these belts are known for their shine and polish. They are elastic as well as have enough potency to secure your waist and keep you comfortable in the feel. Some of the leather belts have metal buckle and some of the buckles itself is made of leather itself. You can get a variation in size, color and shape of leather belts. The trendy leather belts have stitching and designs on them.
Leather Wallets and Handbags: These accessories are carried by men and women of all age groups. They are known to resist wear and tear and are sturdy. They add a dash of refined tastes and pride in your attitude. These are often among the most valuable gifts that you can choose and are selected by designers to set a trend apart in making them look more sophisticated. The straps of leather handbags which are made of leather ensure that it can take on the weight of the items effectively and not stress your shoulder and neck.
Leather Bracelets: These are one of the coolest accessories you can come across. Both men and women dig in for these to add a phenomenal look to their personality. They are available in many designs and often decorated with studs, shells, stitching, patterns and a lot more. They are one of the funky articles you should definitely add in your list if you want to carry a high end look by still adhering to your simple lifestyle.
Leather Gloves: These are in existence since a long time and were used by soldiers and lab assistants in protecting their hands from injuries and wounds. Leather gloves keep your palms warm and can stretch up till your arms in some cases. There are all kinds of categories in them like the two finger, one thumb, motor biker's, four fingers leather gloves etc. they have a soft feel and keep your palms cozy and provide a fine agility to your hand movements.
Leather Hats and Caps: These were initially worn by cowboys to protect their head from sweat, dust and the strong sunlight. Even now they are used for this purpose with an added benefit of fashion and style. They can be beaded or decorated by studded jewels and stitches. Best worn in parties and day outings, these are also preferred by professionals like bike riders, forest fellers, lawyers, archaeologists and adventure seekers.