Leather jackets are an important part of clothing for people. These jackets provide warmth and keep you protected from external wounds as well as add style to you. Leather jackets for winter season have extra padding inside the jacket so that you don't face the chills of the season and your body is nicely insulated against cold.
In winter, leather jackets keep the body secure by having closures at arms, hems, frontal part. There are minimal vents so that the cold winds do not affect you. The texture is plain or either grainy so that the particles of the snow slip off the surface and does not percolate. Some of these leather jackets come with hood that shields your head. They have a stringed, button, strap, and stud or zipper closure for the openings.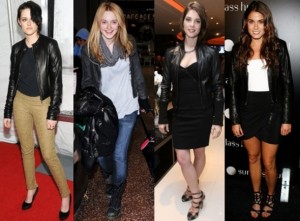 There are various sizes available for this season. If you want a slim fit leather jacket for winter, they will cling to your body in such a way that your body gets ample space to breathe and the same time does not allow the breeze to ruffle you. The jackets which are dark in color are preferred in this season as it absorbs and traps heat.
Leather jackets for summer have lots of vents and you will find various sleeveless styles and the ones with open zippers and light feel. The texture is perforated so that your body can rage against the heat of the season. Lighter color shades for the leather jackets is preferred in this season. Many people like to wear suede leather jackets in this season for their lush feel and softness. This also allows for easy maintenance and quick drying.
In summer many people plan for vacations and holidays. Trendier leather jackets having different kinds of cuts and patterns are heaped in market for choice. Bike riders wear leather jackets with a windproof zipper lines so that they can maintain their poise on the bike and the heat of the summer does not produce rashes on their skin. The material of the leather jacket makes sure that a gentle feel surrounds the inside of the surface and tenderness is kept on the exterior.
In spring, leather jackets come in vibrant colors and many dotted patterns. The jackets are made in a way that the body does not face too much of heat or cold. It is kept in balance and you will find this season's leather jackets have thin hoods and more zippers and pockets on the surface.
In rainy season, leather jackets are lubricated with waterproof oil and this is sprayed on the surface. Never use your regular leather jacket in rains as it will harm the texture and make the material to tarnish. Buy the recommended leather jackets which can withstand water. Some the leather jackets in this season come with polyester lining so that the water does not seep in.
So get a leather jacket for yourself according to the conditions you live in.
Comments