Suede leather jackets are worn by both men and women. They have their reach in casual as well as formal wear. But as time goes, you may tend to see some stains and marks on them if you don't care for them properly. The listed below pointers will help you to understand how to get rid of the principal contentions and keep your suede jacket brand new.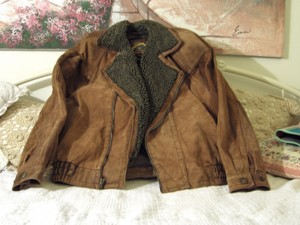 •    Always keep your suede leather jacket clean by constantly brushing them with a gentle brush to take off the dust and dirt. This ensures that you don't have to deal with smudges and paleness of the jacket in future.
•    If you find some faint stain on your suede jacket then just rub it off carefully with the help of a clean cloth. You may dip the cloth in warm water to make it wet just a bit and wipe the stain off and dry the spot with hair dryer set on a very low heat.
•    Sometimes you may find pen or pencil marks on your suede leather. Don't panic and put your jacket in for a wash immediately. Try rubbing off the mark with simple eraser and you will be surprised how effective this method is actually.
•    If your suede leather has caught some small granules stuck in the hair surface then work on the area with the help of a nail file to carefully take out the grime. With the help of a suede brush, brush the ruffled area to get the smooth texture back.
•    If the suede jacket has a wet stain then dry it off immediately by placing a cotton cloth on the wet area which will absorb the wetness. Repeat this procedure till you feel the stain has completely soaked off. If the mark still exists then follow the above methods to get a spot free area.
•    There are some special lubricant sprays which are recommended by the manufacturers that make your suede leather waterproof and keep dust and dirt away from collecting. You can use them as a respite.
•    Never fold your suede leather jacket as this will lead into creasing. Hang the jacket on coat hangers and place them in a dry and moisture free space otherwise your jacket will have the chance to succumb to mildews.
•    If your suede leather jacket still gets some creases then iron it by steam method wherein you hang the jacket in the bathroom and run the warm steam over it. The other method is the manual ironing but always use a press cloth or a brown paper so that the heat of the iron does not come in direct contact with the garment.
•    The washable suede leather should be conditioned properly to keep them supple and maintain tenderness of the jacket.
•    Get your suede jacket washed and dry cleaned professionally if you don't have the right equipments and unsure about home grown methods.
Comments