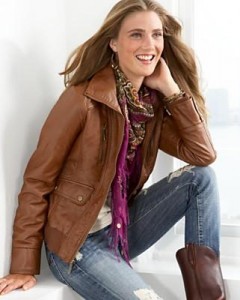 Leather Jackets is one outer wear which is versatile, comfortable and stylish. Every fashion chauvinist or enthusiast has at least one in his/her wardrobe. Leather jackets can be worn to any occasion and they are very handy in times when you do not know what to wear for an occasion. They ooze sexuality, ruggedness the wildness in subtle attire.
Leather jackets are comfortable for both men and women; they protect the individual from cold weather, they are durable, tough and are considered a god investment as they last a lifetime. The history of leather jackets is vast but let's not gets into the historical dates and styles and find out what are the different types of leather jackets. There are all types of leather jackets available today, but are famously categorized as men's leather jackets and women's leather jackets.
Different styles help in creating an individuality of a person. Some of these styles comprise of bomber jackets, trench coats and classic/vintage styles and are also available in different colors.
Bomber Jackets: The historical leather jacket which was designed for military pilots with one specific color.ie. Brown. It was designed in 1900s especially to keep the pilots warm and cozy. Bomber jackets did not only serve the war period by protecting the bomber pilots from bad high altitude weather but were soon to become the legend in the fashion world. Today bomber jackets are available in various colors, but the still favorite being brown, this is one leather jacket which differentiates men's from boys.
Bikers Leather Jacket: The biker's leather jacket also has a long trail of history attached to it. The biker leather jacket style is completely different from the bomber and the regular fit; even they belong to the era of 1900s. These leather jackets were designed with a purpose to protect the rider/biker from cold harsh winds and from abrasion. These leather jackets are designed with thick leather and are available in various colors. Today you can also find armored biker leather jackets which include safety shoulder, elbow and back pads to protect the biker from getting injured in case of an accident. It was and still is one of the most eye catchy trends in fashion. Worn by both men and women, women's leather jackets usually fit snugly as compared to men.
Trench Coats: Trench coats are long leather coats which actually have a negative impact on the person wearing it; these coats were worn by mafia dons as shown in Hollywood movies. The trench coats not only protect the upper body but also the lower body of the individual. The waist belts are the eye catchy features of these coats.
Comments