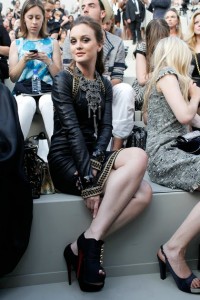 Leather dresses is ideal winter leather clothing for women. Leather dresses have been in the public eye for a long time. Due to the reemergence of the classic styles the demand for leather has increased. For women; shopping for leather dresses has always been a puzzle as there is a gamut of leather outfits available. Leather dresses are a timeless classic which play a major role in transforming a women's image.
Leather dresses are versatile and have their own charms, there are several of designs that an individual can opt for. Leather is one fabric which can be worn in any season. Leather outfits continue to rule the fashion scenes and are still dominating the fashion market.
Leather outfits are best suited for winter as they are non porous unlike wool and do not allow the chilled winter air to pass through it; apart from that the leather outfits are voguish and they impart an individual style to a women's persona.
The black leather dresses have gained immense popularity, as seen by leather enthusiast there are various other colors that you can opt for like brown, the different shades of brown is the new trend that is soon becoming popular, if you wish to go the unconventional way then and red colors are good options. The leather dresses can be used for both casual as well as formal occasions and the best part is that they never go out of style. They help a woman attain an edgy look by making her stand put in the crowd.
Leather dresses is an unmatchable aura which has no competition what so ever…
Some Leather dresses that will not disappoint you:
•    The Leather sheath dress looks classy and has a charismatic appeal. A knee length leather sheath dress will definitely make you look like a celebrity and is well suited on women who have an hourglass figure as it perfectly accentuates the curves of a woman.
•    The floor length halters look amazing especially for winter celebrations. Colors like lack, red and brown are easily available and one can opt for them depending on their personal taste.
•    The overlapping patterned leather dress looks beautiful for red carpet like occasions. A overlapping pattern with a corset fit looks ravishing and clasy.
Comments