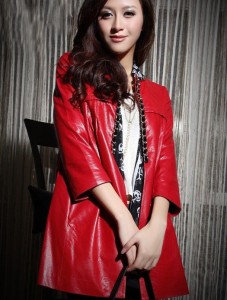 2012 is here! Hope you had a blast on the 31st and will continue to do so throughout this year. Well you should, as it is considered to be an auspicious year as per the Chinese calendar (year of the dragon and all). As far as I am concerned, being in the fashion industry and dealing with leather products for a long time, I wonder whether 2012 will still see leather at the helm of fashion. Well, 2011 was a good year for leather apparels especially jackets.
Jackets were always in vogue right from the start of the nineteenth century. Combine it with leather and we get a fashion icon, a vogue that is not going to fade soon. Leather products that weren't affordable are now not only affordable but easily accessible. The advent of all-season or all-weather leather aided the influx of leather into the world of faddism. The merits of leather can be found galore, they are:
•    Durable
•    Comfy
•    Stylish
•    Versatile
Leather jackets and coats do not get worn out after years of rough usage and it is one outfit that defines your attitude, in a way you can cay say it defines you.
Its versatility is commendable; it gives a hunky look to motorcyclists, it warms you up in style during winters and can look hip on both the genders. Leather blazers, leather cycle jackets and leather bombers fill in the missing links of the fashion armor. And the best part is that they all come for men and women both.
Leather outfits helps you make a statement, so whether you are going on a date, a party, a wedding or going partying in town a leather outfit takes you there in style. Why, you ask? Well it's because leather goes with everything, be it jeans, suit, trousers or pants; a leather jacket on top helps enhance your style quotient.
So the question of whether leather will go out of fad, well the answer is maybe NEVER!
Comments