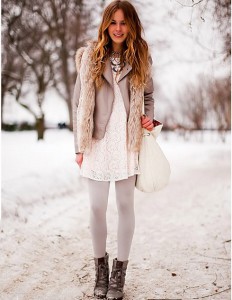 Crystal glints on snow, icy ponds surrounded by green pines, skaters in red hats and mittens, indicates the winter season. This season is all about blocking and overlapping to cease the cold breeze. It's the season for jackets; it's the season for wool and leather. So hit the shops and grab on a cool leather jacket that keeps you warm.
Leather jackets have always been a trend setter on and off the seasons. Heading apart from the cliché of bikers donning it, it's now become a fashion statement in the glamour world. The array of available brands and styles will leave you awestruck. This season, it's the most essential part of clothing, so get your hands on some comfy yet stylish pieces.
While selecting a perfect winter leather Jacket there arise a few essentials to avoid a faux pas. Just donning on something cheeky and stylish which does not compliment your body, may just leave you  a fashion victim.
The essential consists of the following:
•   If you have a broad shoulder or large Bust, a double breasted jacket will be a perfect match.
•   Women looking for a curvy look can opt for belted jackets. A belt clinches at waist creating an hour glass figure. For men short belted leather jackets give a very stylish look.
•   To look tall, jackets that don't go beyond your knees will do wonders. These long jackets create the illusion of an elongated leg line. In this case the hemline can end an inch above the knee level.
•  Top heavy individuals can opt for single breasted jackets while the ones who are bottom heavy can try long leather jackets.
•   If electric and vibrant color scheme don't match your personality go ahead with neutrals like grey. You can never go wrong with black.
•   Avoid polo necks; this will make you look short. Instead accessorize it with a trendy scarf for a glamorous look.
Comments