Archive :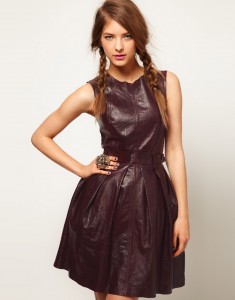 Many fashion designers have been trying out this new trend to recreate the old and magical designs and patterns in to something that may look extremely refreshing this winter. As we all know how leather attires have been on top in the fashion world among all the immense fashion seekers, the designs among them have truly fascinated all of them in a big way. The way leather attires are being made has been truly exceptional and surely it has proven that, they are here to stay in the fashion world for a long time thus, giving a run for all the other piece of attires.
Modern generation is all about looking extremely trendy and fashionable. They seek fashion in whatever outfit they wear and as a result the designers too have been creating some of the best and good looking stuffs so that they can satisfy the needs of the fashion crazes. If we talk about the top winter fashion trends, there surely are many of them but we here present you some of the best ones among leather that can make you look like a star this winter.
Leather Has Got These 3 Basic Benefits Within Them:
They look stylish
They look sophisticated
They are very much comfortable
Jittery Black Leather Stuffs:
So based on keeping these 3 features in mind, the winter 2012 trend among leather has got these edgy leather winter coats that can make you have that blazing sort of look over you. if we have a go among leather boutiques, then surely we may get to see some of the hottest new collections among these edgy leather winter coats. There can also be some of the best looking belted leather coats, military styled black leather jackets and long black leather skirts is well. One of the best features within them is that the way they have been finely accessorized with that of studs and sliver hardware's.
Leather With A Sophisticated Look:
Had you ever experienced the word sophistication in real and that by the kind of attire that you wear, then surely this one is for you. Winter 2012 fashion trends is presenting you some of the classic leather stuffs along with the combination of those woolen fabrications that truly enhances the look of your in a big way. There are classic looking textures among the leather stuffs this winter for you that will make you go bizarre for sure. Along with that, their comforting feature also makes them one of the must have sort of trend for you this winter. The latest among that would be a leather jacket that has got those woolen textures near the collar area as well as from within thus keeping the wearer warm during winter.
Leather Trousers:
If you have an extreme sort of love and affection towards wearing a trouser this winter then why can't it be a leather one? Leather trousers are massively tough and looks elegant is well. Do not just consider the color black among them, try and make sure that you also go in for some other colors that will look great.