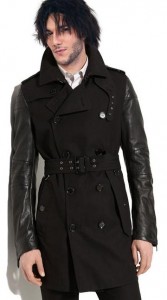 The men's outerwear is not only about keeping them warm but these days is all about being dry and warm and being in style. There are various options for a man to choose from but a few of the most trendy and stylish ones are listed below which will surely help you keep warm and stylish. The first thing that comes to mind is the leather apparels when I think of winters. This is one outerwear which will never disappoint you. It's the perfect outer wear to keep you warm and make you look trendy. Here are various other options apart from leather clothing which are fur coats, woolen coats and much more when it comes accessorizing with caps, scarves, footwear's etc.
The Leather Trench Coat:
The leather trench coats have always been a popular trend when it comes to shopping for winters. The trench coat is a type of raincoat which can be worn by both men and women, but it's more popular in a man's closet. They are fashionable and there is no need to mention that they will keep you warm and cozy. This is definite inclusion for winters if you prefer to celebrate your New Year outdoors. The double breasted front style, single back vent, raglan sleeves and epaulets are some of the features that you should look for when buying a trench coat.
The Parka Jacket:
One leather jacket that's high on demand these days is the leather parka jacket made from calfskin leather. The leather parks jackets is a hot commodity for both men and women. The parka jackets are a perfect wear for the cold winter months. It is always advisable to shop for a parka leather jacket that is a size or two bigger than you actual size, as it is easy to accommodate the bulky winter clothing.
Woolen Pea Coats:
These military styled coats are fast gaining popularity in the world of fashion. The woolen pea coats best at defining masculinity. These coats are a must have for winter wear. They are stylish, masculine and versatile as they can be worn on any occasion and the best part that they offer apart from being stylish is that they keep you warm.
Leather Bomber Jackets:
Leather bomber jackets have already made a name for themselves, the latest colors that you can opt for in bomber leather jackets are ivory, brown, khaki and the classic black. They are stylish, versatile and warm.
Fur Coats:
Fur has been the favorites among ladies, but leather jackets with fur collar are the latest edition in the men's wardrobe. Fur coats are trendy and they keep you warm and can be paired with any type of clothing.
Comments