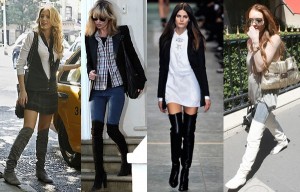 If you want to appear dissimilar in the crowd all you need to do is the wear the right shoes that go with your outfit. One of the best thing about leather boots is they are made in versatile genre and size which very well go with the preferences of every women. Leather boots are very much adored by most of the women all around the globe due to the impressive look it gives when worn by any women. Trendy leather boots not only give out a stylish look but they never stand behind in providing maximum amount of comfort to the owner.
In leather boots flat heeled shoes are mainly in favor nowadays among the females who have spirit of their own. Flat heeled leather boots are mainly opted by the women who are tall and slim in built. And if a woman plans to buy flat leather boots she may have large number of options in front of her from which she can choose the one which perfectly matches with her physique and outfit. Flat leather boots are produced in varied patters which include strapped to zipper boots, lace up flat leather boots and so on. As far as color is concerned pick up neutral colors like black, golden, camel color, brown, white, etc which get mixed up with a range of outfits.
Women who have long ankle can select mid-calf leather boots which may truly give out an amazing appeal. It's obvious that accessories and shoes give out a finished look when worn with any type of clothing. When it comes in choosing leather boot while you wear a short dress go for thigh high leather boots which gives out excellent gaze when worn with miscellaneous garments. Thigh high leather boots very well get teamed up with short clothes like denim short pants or miniskirts the only thing a girl needs to do is to mix it up with sexy stockings.
If a girl really wants to stand different from her classmates or pals when she enters her campus or walks in the party hall she just need to arrange her shoe rack with a set of leather boots which may allow her to alter her persona as per the shifting surrounding and ambience. One of the best ways to appear gorgeous is to wear the leather boot over short dresses which not only give you the chic look but also brings in large amount of focus on your hot shoes. Leather boots get coupled up amazingly with a trendy tee, short pant and a mini denim jacket which definitely makes the wearer appear dashing.
So, hurry up and start sorting your shoe shelf with some sizzling leather boots which may truly transform your charisma into a singular one.
Comments