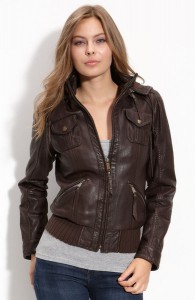 The 2 major styles that one should this winter season are mentions below…keep reading and you will definitely agree…
Military Style:
The very first looks that comes to mind when thinking of fashion trends this season is the evergreen Military Style, the military style includes leather jackets, coats and are of a great value and are very stylish. This is one style which you should not give a miss this season.
There are many other looks as compared to the military and the goth look and they are more stylish and beautifully tailored. One of my favorites this year has been the military style double breasted coat and jackets, which feature the military button which are symmetrically displayed on the coat and jackets.
The current trend of the year 2011 is definitely the military styled leather jackets and coats which can be worn with leather tights and stylish boots to compliment the look of the season. The latest collection includes a look that has been inspired by the 20th century military uniforms and are available in colors such as black, khaki, beige…there are also stylish jackets available in red, navy blue and grey.
Clothing that goes with Military Styled Jackets:
Military jackets and coats can be paired with leather leggings, leather skirts or even trousers, for footwear boots and pumps is the best option. The fashion advice here is that keep looks simple but trendy…do not go over bored with leather dressing and keep the style feminine.
Leather bags are great accessory to go with, which can be paired with military style leather jackets to complete the look.
The Aviator Look:
The next looks is the obvious aviator look this season, aviator leather jackets, bomber leather jackets are the hot selling items this winter season, they keep you warm and stylish and have the ability to get maximum attention.
Aviator style leather jackets were designed during the WW1 when the pilot used to fly those open cockpit fighter jets, the bomber and aviator jacket used to protect them from the cold chilled winds at higher altitudes. Sheepskin is the most common type of leather used in designing the leather jacket.
These jackets can keep you cozy and yet will make you look stylish and trendy.
Comments