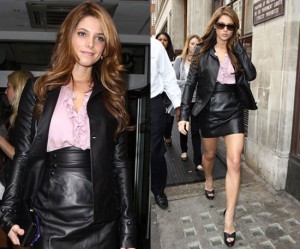 You just cannot neglect a leather skirt they are always trendy and will always be in fashion all you need to do is built up some courage and buy a right leather skirt that suits your body type…then here are a few tips that will suit your style and help you get a suitable match for you leather skirt…
There is a plethora of leather skirts that you can opt for leather skirts like short skirts, pencil skirts, long leather skirts…the list is endless.
These five points will get you through:
Expose Minimal Skin: You have already opted for a short leather skirt, so keep the bikini effect to minimum especially when it comes to selecting a top for your leather skirt. Do not overboard you looks with stilettos, braided tops..Keep things simple with leather skirt as you are wearing the ultimate piece of fashion. Pumps or flat boots is a good option with loose tee shirts.
Thing about High waist Cut: The first thing about the high waist leather skirts is that it looks flattering on everyone. The first thing is that your will look tiny wearing a high waist skirt and it will you assets will be highlighted.
Accessories, what you need to know: Always keep your accessories to minimum when wearing leather skirts, avoid waist belts…in fact don't even think about it, you will not need a waist belt if you wearing a tight skirt, remember over dosage of leather is not good. Leather is an attractive piece of fashion so keep your glittering jewelries to a minimum.
The Back- up….Bottom: Its always better to wear an extra clothing inside, if you are planning to don a mini leather skirt that's tight and short. The problems that you will face are while sitting or in case if try to pick something up….so spandex shorts is a good idea to save you from embarrassment.
Confidence: The rule number one actually, see to it that you have lot of fun wearing that beautiful piece of fashion, leather as a material does have a charm to attract viewers, do not panic here but instead show confidence by keeping your head high, shoulder back and a beautiful smile will get you through.
Be Stylish! Be Confident! Have fun!
Comments