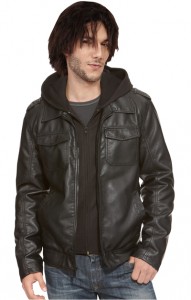 Leather jackets are have always been in fashion and hooded leather jackets has been the latest rage among the fashion aficionados. Not far away are our beloved celebrities like Zac Efron, David Beckham, Justin Bieber are a few  who have been recently spotted wearing the latest trend which is soon hitting the fashion racks of famous boutiques and your nearby shopping stores. Soon you will hear many other celebrities donning the same style.
The most dominated fashion in fashion industry is celebrating the cool winter months with attached hoodie, not to mention the leather jackets are still very much in. They carry the sporty look if paired with jeans and a T-shirt and can also be easily converted to the formal look if paired with formal. The most versatile look ever to be designed.
Hollywood hottie and the teen celebrity Zac Efron the "It Guy" looking in his "17 again" wearing dark blue denims which paired with a t shirt and a classy, slim fit leather jacket with a hoodie, not far away is the other hottie the famous footballer David Beckham who definitely deserves the credit for popularizing the Superdry brand. The Superdry brand did not actually go for any promotion but has an amazing collection of fascinating leather jackets. David Beckham would have never bought the jacket from the brand if it was not well designed.
The other celebrities who have been spotted wearing the same brand leather hoodie is Justin Bieber and the twilight girl Kirsten Stewart who was spotted wearing the hoodie to cover herself from the twilight fans.
Lamb leather jackets are definitely in this winter as compared to suede which is suppose to have a dry run this winter month, the suede leather has its own class and style but lamb leather gels nicely with the hoodie.
It's time to rearrange your wardrobe and add some more fascinating collection; the hoodie leather jacket is a definite have this winter season if you still wish to be spotted in the limelight. In short to gain the limelight wear hoodie leather jacket.
Comments