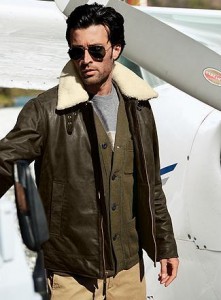 Winter has already arrived. And people are busy buying some basic winter stuff. But the fashionistas are busy pondering and fretting about the kind of clothes they want or need. And considering it's the coldest time of the year, special care is called for. The clothes or the make-up everything should be in sync with the season. Putting a little focus on fashion and clothes let's talk about winter fashion for the year 2011-2012.  The best outfit for winter is leather outfits.
Leather clothes or apparels of any kind are the best that you can pick during winter. It will no doubt increase your fashion quotient to a very high level, but at the same time it will keep you warm and cozy too.  Leather is such a material that its thickness will not let any of Mother Nature's harsh and extreme climates reach you. The best would be to pick leather jacket-preferably an aviator leather jacket.
Aviator jackets have a very old history. Initially aviator jacket were worn by pilots and fighters of World War 2. They were basically used as safety gears. But with every passing year the function of aviator jacket has changed. And now in the current generation it is more of a fashion statement.
Leather aviators can be seen every where-on ramps, at fashion shows, events and also on streets. The way you wear your aviator is totally your choice. Aviators have also been worn by many celebrities like Tom Cruise. They look hot and damn classy and stylish. Aviator jacket when worn with skinny denims or any kind of pants will look more stylish especially when you wear a tee-shirt and a nice winter scarf around the neck.
Aviator jacket look the best in shades of black and brown. Any other color would steal away all the shine. Black and brown will work wonders. Sport a jacket on this color and you are sure to look like a celebrity yourself.
So if you are looking forward to dazzle every party and occasion you walk into, pick a sexy leather aviator jacket and look like you desire. Your fantasies will soon turn into reality.
Comments