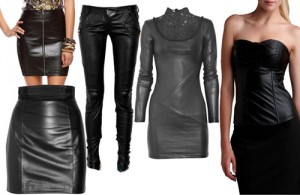 It's always better to be a little prepared for everything in life. In terms of fashion it's wise to have the proper clothes for the upcoming season. Winter is almost here and so are the latest dresses and outfits. For winters leather is the best option, it looks sexy and also keeps a person warm.
The best way to look stylish is by following the latest leather trends for the coming winter of 2012.
Leather Jacket:
Leather jackets are timeless beauty. They have always been in fashion. Since then not once has it been off-ramp. It looks ultra classy and definitely is one of the classiest outfits ever. A woman wearing a leather jacket looks extremely classy and sophisticated. It is the best way to show people around you that you definitely are in style and fashionably updated. You don't have to stick to black and brown. A lady can go for red, blue and even pink. While men have lesser option like grey or white.
Stylish Blazers:
For a more professional look, another latest style in leather is blazers. Off lately many men and women have been sporting leather blazers Celebrities have worn them at many award nights. It looks rich and high class. If worn nicely and pulled off well, it will add glamour to a fashionista's outfit and look. A lady can wear a leather blazer also with a skirt, preferably a sheath cut skirt.
Classic Pants:
Pants have always dominated the leather world. It has always existed and it still does. It is the best way to show off your best fashion style. For men, a leather pant can be loose or either skinny. Skinny leather pants are in fashion and they look extremely classy. A tee-shirt or even a top with pants will look funky and cool.
Finally the ultimate new trend is sexy and chic leather dresses. They look ultra classy and smoking hot. Leather combination dresses are also in trend. Anything worn in leather will look good only if you know how to carry it off. The perfect accessories, complementing clothes are what maters the most.
Comments