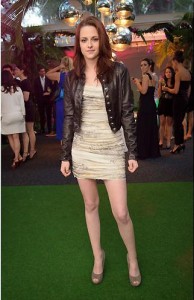 Suddenly people are gripped with twilight fever. The movie with so many sequels has become a craze among many. And with the movies being a hit and one of them slated for release, the stars have also become a rage among many. For the boys the leading lady of the movie Kristen Stewart is definitely a favorite. Everybody considers her to be hot. And as far as the ladies go, the envy her and her fashion sense and style.
Her dresses at every event are always unique and fashionable. She knows the best about herself because every dress that she has worn so far has suited and complemented her very elegantly. And for every fashion enthusiast who has missed a few dresses that our romantic lady has worn, well here is a look into some of the few dresses that she wore at many events and award functions.
Let's start with her leather outfits. She once wore a pretty mini dress that was a strapless piece and she wore a leather jacket over it. A black short leather jacket with big buttons at the front and she kept it open.
In another event she wore a black plain and simple leather jacket over a back tee-shirt and brownish pants.  She carried this casual look elegantly and very casually. She looked her best in this attire.
At another function she wore a very pretty and stunning leather dress. The dress was a short and strapless dress with embroidery and beadwork work all over it.  Her make-up and hair style-everything was in place.
As far as fabric clothing goes, there are loads of them.  But we will talk about only the best of the lot. One of them being the staple white mini dress that she has worn at many red carpet events. Her mini dresses in white have always been stunning and a mesmerizing beauty.
Another dress was a lace dress-short and a one-shoulder piece. Black and cream combination always works and with Kristen Stewart trying it, it worked the best.
Kristen Stewart has undoubtedly set a good fashion example for many fashion aficionados who have been following fashion since they ever remember.
Comments