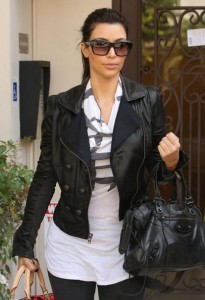 Who can write my papers – websites. Kim Kardashian is always in news, not for wrong reasons all the time. Most of the time she is in news for her unique and overly sexy dresses and outfits.  If you are the types to take a fashion cue from celebrities then the best person to follow is Kim Kardashian. Kim has been spotted wearing leather outfits lot many times.
In one of the events Kim wore a stunning blue color dress and she wore a leather shrug over the dress. Her dress was short and the skirt in blue, while the top was black because of the jacket and grey inside it. She looked marvelous in her well chosen attire.
In another occasion she wore a leather pant that was tight fitting and enhanced her curves perfectly. She teamed it up flawlessly with a sweater over it and white shirt underneath the sweater. She wore a black leather high heel shoes and tied her hair up in a bun. She does know how to carry any kind of leather outfit. She is a true fashionista.
In the recent events, while filming for Marriage Counselor she wore a very rough and tough leather jacket that was black in color. She looked very pretty in the same. The jacket did have masculine features but her feminity was not overshadowed in any way.
Kim Kardashian has basically worn every kind of leather outfit. Right from leather jackets, leather boots, leather pants and even leather dresses, she has experimented with each of them. And in every look that she carried she looked fantabulous. In one of the events she wore a leather boot with a normal top and pant. And no doubts-she turned many heads and the photographers were more than happy to click her. She has always been every photographers muse.
Leather outfits-how to carry them and how to accessorize them-well follow fashion websites, shows, and events and read fashion articles. But every article or event should have our favorite Kim Kardashian. Her dressing style has never been criticized in fact it always has been appreciated. She ensures that every single detail in her dressing is up-to-the-mark and also up-to-the-minute.
Comments