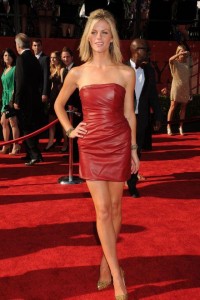 Leather dresses have always been a hit. Where it is seen often? Well of course the answer is red carpet events. Off lately many celebrities have been seen wearing a red carpet leather dress. The kind of trends they have set in a leather dress is something to be watched out for. The style and colors and also necklines are incredibly beautiful and hot in some cases. Let's have a detailed peek-a-boo at some of them.
Jennifer Aniston in one of the events wore a rather plain and simple black color leather dress. She chose the dress very wisely and wore a dress that would enhance her looks. And the leather dress she picked did exactly the same.
Elizabeth Banks wore a striking red color leather dress.  The dress had a pattern flowing at the end in a zigzag manner.   It was a sleeveless dress and very tight fitting to enhance her curvaceous body to a next level. Leather dresses look the best when pulled of well and accessorized properly. She tied up her hair, wore a red lipstick and a silver clutch with cream color peep-toes.
Kirsten Stewart the current heartthrob wore a leather dress at a social do. Her dress was super short and strapless with a slight sweetheart neckline. She had prints all over dress in a black and red combination. She kept her hair open and wore black color high heel shoes.
The best part about each one of them was that they all dressed up in leather dresses but carried it off differently and with elegance.  They didn't make any mistakes with their hair, make-up or even accessories. Right from clutches to jewelry they all looked sexy and complementing with their respective leather dresses.
Red carpet inspired leather dresses or leather dresses worn by celebrities itself are always the best bet for any girl who wants to look distinctly beautiful; and hot. But do the same with a touch of your individual style and fashion sense. You character should reflect through the leather dress or rather through you whole look. That's when you can call it successful clothing.
Comments