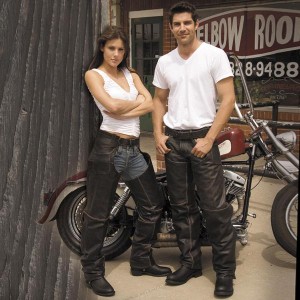 Everybody needs a protective gear or clothing while on adventurous trips especially the ones that involve motorcycle rides and journeys. Yes when it is motorcycle people first think of helmets. There is much other stuff that is important for a road trip. The whole body has to stay protected.
Leather apparels provide just the right thing. Leather jackets are more often than not used by bikers to keep themselves away from the harm caused by Mother Nature. The lower body however remains neglected. Leather chaps also come as a useful gear. They might seem a bit weird but they come very handy.
Now-a-days there are many people who wear a leather chap even when not riding. It also serves as a fashion outfit. Ladies wearing leather chaps can actually focus more in their legs and manage to steal attention towards it and men wearing them can look very manly.
Always pair leather chap over a nice and sexy normal pants. So that will look really cool and will fade away all the awkwardness. It helps cover up your pants too. And because it is becoming a rage among many designers are coming up with many latest designs and styles in them. For colors black and brown is the best option since they looks sober and stylish. The style and confidence that comes with leather is just natural and coincident. Leather has always oozed sexiness. The style and trends available are also too many that will leave you bewildered.
With leather jackets, gloves and boots, leather chaps have also become and essential accessory for a biker. To get hold of the best leather chaps you can browse online for better and wider options. You can log onto any site and do a thorough search to get the best leather chap as per you requirement. Some sites also offer discounts and complementary gifts. So balance both style and comfort and pick a leather chap that will fit into your body and keep you warm form the harsh climate. Be a part of the evolution and pick the latest trend in a leather chap so that you do not lack behind.
Comments