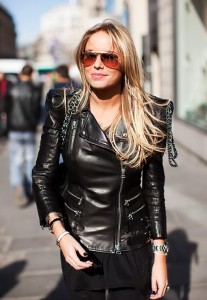 Leather jackets can take anybody's look to high standards. It looks awesomely stunning. For most of them it is a fashion statement and for many others it is a safety gear. How u want to look it is completely your call. The best in leather is a Balmain leather jacket. Balmain leather jacket looks very fashionable and sophisticated and hence it is in high demand by many fashion enthusiasts.
Some of the leather jackets in Balmain look ultra classy and trendy. A black color leather Balmain leather jacket works the best for people who love fashion and comfort. Rihanna once wore a Balmain leather jacket that she paired it with black color tee-shirt and black pants. She looked stupendous in her attire and she applied pink lipstick. She carried the look so well that the leather jacket looked much classier.
Victoria Beckham always wears a leather jacket especially the Balmain leather jackets. She has been spotted wearing a jacket with padded shoulders. It was trend followed earlier and now it's once again back with she wearing it. There were many after that followed this style. Her jacket was a tight fitting piece and she wore with simple denims.  A black color shoes, black tee-shirt and a black color cap with sunglasses-she gave an enthralling finishing touch to the whole look.
Kate Moss wore a Balmain leather jacket. Her jacket also had padded shoulders and she wore it over a very cute tee-shirt that has Mickey Mouse designs on it. With that she wore denim jeans and a black belt around it, she looked classy because her jacket was tight fitting. Balmain leather jackets can always be found almost in every other fashion store.
To find the best of them, you can also search online who readily offer these jackets at very affordable prices. Leather comes costly, so do a thorough research and see where you get the best Balmain leather jacket at very pocket friendly prices. After you have made your purchase, carry it off perfectly with the right accessories and clothes and raise a few eyebrows.
Comments