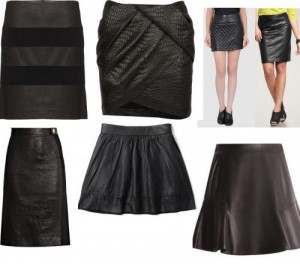 To bring out sexiness in the best possible way, the one and only thing that a lady can do is pick a sexy leather skirt and wear it something equally classy. You will find wagging tongues and people drooling over you. But this can happen only if you know what style and which color leather skirt you should pick. Considering your body shape and skin tome here are a few tips as to what types of leather skirt he can go for.
1)    Straight Leather Skirt:
A straight leather skirt is nothing but a skirt that runs straight over your body. It might be a little tight but when worn gracefully it would look the best on any girl with a well toned body.
2)    Full Leather Skirt:
A full leather skirt can be either a long skirt or either it can be a skirt that is full in terms of size. Either of them it is the best way for a lady to go to work. You can wear a full leather skirt with a nice shirt or even a tee-shirt.
3)    Line Leather Skirt:
A line skirt is for girls who love fun and comfort more than style and trend. It is leather skirt with pleats or either lines. It can be short or long and is a perfect wear to parties-both formal and casual. Team it up with the right top and accessory and you are sure to grab a few eyeballs.
4)    Pleated Leather Skirt:
A pleated leather skirt again is almost similar to a line skirt. The only difference would be that it is heavily pleated and it looks more like a bandage skirt. It looks sexy when worn with a colorful top or a tight fitting top. Keep the length of this skirt short and frilly.
5)    Panel Leather Skirt:
The latest in fashion market and the classiest so far is the panel leather skirt. It is tight fitting and wraps around your body nicely. It has a unique pattern of wrap and it is a perfect wear for parties and also works. You should know to play with combinations and you are sure to look the best.
Comments