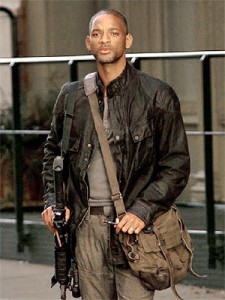 Leather jackets-who doesn't love them? They are always fashionable and look rock chic. A man who doesn't have a leather jacket cannot be called a fashion enthusiast. It is staple clothing for every biker and also a fashion enthusiast.
The best way to bring the best out of your jacket is to ape or get inspired by Hollywood celebrities. And there are many who have worn a leather jacket-be it actress or actors. Let's take a look at few celebrities who have worn leather jackets.
Will Smith is one of the smartest and talented actors we have. In one of the events he was seen wearing a brown color leather jacket that had a rough and rugged look. The jacket has two pockets at the front. He chose to team it up with a pant and tee-shirt and his sporty side bag. He looked awesome and a true stud in this attire.
Another celebrity Rihanna also wore a black color leather jacket. Rihanna has always been a pop star and also a fashion enthusiast. Her dresses are always a rare and distinct choice. And she carries every look with style and elegance. In this particular event she wore a stunning leather jacket with high pointed shoulders and feather type ruffles that runs from the shoulder till the end. The designs also have an intricate beading at the border of the jacket and also at the hems of the sleeves.  She applied shocking pink lipstick with a very funky hairstyle and wore black color top and black jeans. Her all-black attire looked stunning and the kind of make-up she applied made her look like a diva.
Jessica Alba one of the cutest starts ever has to look gorgeous when she chooses to wear a black color leather jacket with very simple details. The leather jacket has big brown buttons at the front. The leather jacket was worn with a very cute top and she left her hair open, all in all she looked super cute.
Comments