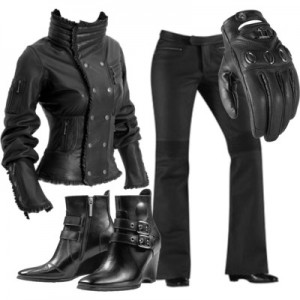 Leather accessories are a must have for every biker. A leather jacket, a leather pant are some clothing that a biker will already have. But accessories not many are aware of are also essential. Not only are they a style statement but also a safety gear in many cases. Take a look at a few accessories that can be used by every hardcore biker.
Gloves:
Leather gloves are always one of the most commonly seen leather gloves. They do offer protection and warmth. But they also look cool when carried off in a rocking way. There are many styles to choose from. Some leather gloves offer extra protection with extra padding. You also get finger gloves that have venting. The finer tips are exposed and they look really cool.
Leather Chaps:
Leather chaps are very essential for every hardcore biker, who is constantly on long rides and trips. It protects the lower body and at a first glance it might look weird but it is very safe and keeps you protected all through your journey. There are many people who wear leather chaps to make a style statement. Yes, it is a very bold style statement. Not everyone who wears them has a bike.
Leather Pants:
Leather pants are the classiest thing ever. They are the best for both bikers and fashion enthusiasts. A leather pant also comes in many styles and colors. If you are just a biker go for a leather pant that will offer you protection and stick to the normal black and brown color. And if you are a fashion enthusiast go for pants with zippers and flip flap pockets. And for color you can go for blue, pink, red and also white.
Leather Boots:
Leather boots come for both men and women. They look very stylish. It is the ultimate accessory one can go for. If you know to carry it off perfectly it will work wonders for you. Pick the right size so that you can feel comfortable and it doesn't pinch or bite you.
All the above mentioned accessories are a must have in every biker's wardrobe. Without any one of them also, your look would be incomplete.
Comments