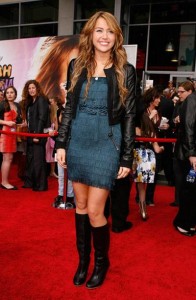 Red carpet styles can never go wrong. Whether they are beautiful dresses or any leather clothing, they look just so marvelous. And there are many out there who love breaking the rules and going out their way to look hot in their sexy leather outfits. And yes, leather is what we are going to discuss here in this article. Leather has forever remained in fashion and it always will. Celebrities have also been spotted wearing this highly fashionable clothing and each one of them has graced so many events in these stunning leather dresses and clothing.
Angelina Jolie was once spotted wearing a black leather pant and she teamed it up with a black tee-shirt. Only a bold lady can have the guts to pull off this kind of look. Not every woman can look hot in a completely black ensemble. Every fashion enthusiast should have a leather outfit of any type in her wardrobe. The latest in fashion are skinny leather pants and skinny leather jackets. Many celebrities have worn them. Brad Pitt has been seen wearing a skinny leather jacket. And he looked classy with a cap over his head and teamed it up with casual denims.
Cameron Diaz, Jessica Alba and few of them are the celebrities who have worn leather apparels in different forms. There are also leather dresses that look classy and sophisticated. A leather dress can either be completely leather or it can also be a combination of fabric and leather.
Red carpet events have seemed all these celebrities wearing a leather dress or a pant at least one. A leather jacket is one of the most commonly used and seen outfit. It is in great demand and because of that leather jackets are very easy to find. They are available in many styles and colors. When these celebrities can wear leather dresses, you do not have to fret about how you will look in them. Go ahead and get one of the finest deals in leather and look exceptionally beautiful and ravishing in them.
Comments