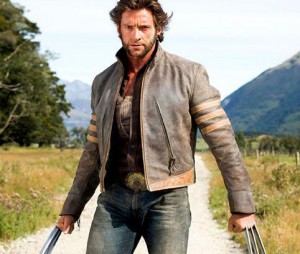 Hollywood movies have seen lot many styles in Leather jackets. That's where most of the inspiration comes from. Leather jackets have always been trendy and in vogue. They look really cool and hot. The ones you see in movies are really fashionable and mouth watering. Those jackets are like a dream-have for every fashion enthusiast.
One movie that immediately comes to anyone's mind is X-men where Hugh Jackman was seen wearing some awesome and trendy leather jackets. In one of the scenes he wore a brown color leather jacket with small patterns on the sleeves. The front portion had pockets with zippers. These trends are really something to be watched out for. Movies like Ghost rider, the matrix, the departed etc has seen many actors wear some really chic leather jackets.
These stars wear leather jackets not just on-screen but also off screen. Because not only does it make a style statement but also provides comfort.  To buy a leather jacket that is typically like A Hollywood style might cost you a heavy amount. But it doesn't really matter because the quality offered would be high. And because of the high quality it will stay longer.
Another trend followed by celebrities is the skinny leather jacket. Earlier girls were seen wearing this jacket. But now even men are opting for this stylish trend. The skinny leather jackets are the ones that are tight fitting and that looks damn sexy. Be it a man or a woman it does look charming.
The only way to follow these style and celebrities with their leather jackets is to watch lot of movies, fashion shows and read lot many fashion magazines. Or else I am sure you will have a favorite celebrity, keep a close eye on their styles and designs and look just like them. You do not have to be in movies to look like a celebrity. Another thing to follow would be how to accessorize it if you accessories your leather jackets way too much the whole show can be spoiled. So keep it simple and classy.
Comments