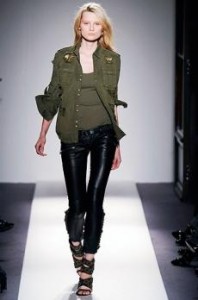 Most women and an even larger number of men spend plenty of hours wondering if they should wear a pair of leather pants. Rule number one – stop wondering. The age of stereotypes is far behind us. Leather pants no more belong to particular section of people. Leather pants are now sleek, sexy creations meant for both men and women. They are comfortable, gorgeous and most of all stylish. When a person wears leather pants confidence radiates off him and her and everyone knows that there is no better accessory than confidence.
Selecting the ideal leather pant is easier than you think. Both men and women have plenty of options and variety. The easiest way to pick out a style is to base it on your choice of denims. If you usually wear slim fit denims, then pick out slim fit leather pants. Even baggy denims can be matched. Just look at Kanye West and his collection of leather pants. Black, of course, is the most preferred color when it comes to leather pants and a wonderful way for beginners to start but if you feel a little more adventurous try out one of the colored varieties.
To get your leather pant look right you basically need to get your combinations correct. Ladies, combine your leather pant with a simple top in a light fabric. The neckline is your choice of course. Wear something loose and frilly or you could wear something fitted like a corset as well. Keep in mind the style of your pants though. A tapered leather pant would emphasize your hips as opposed to a straight fit one.
Men, simply combine your leather pants with a semi casual shirt or a polo neck tee shirt. If you are wearing leather leggings, then combine it with a casual tee shirt. Avoid long sleeves then. Accessorize your entire look. Long chains or delicate jewelry – everything suits leather pants. It all boils down to the look you wish to achieve. Care well for your leather pants to ensure that they last a long time.
Comments