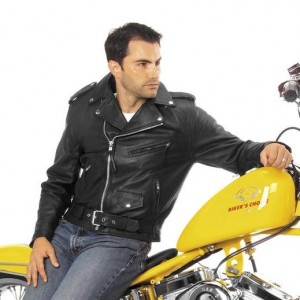 The leather jackets do not always look chic as the ramp models make it look so. Leather jackets are the most versatile outfits than can be combined with any outfit and it still looks marvelous; but in case if you wish to be the boho chic then you need to strike a balance between your feminity and the masculine biker chic look.
Pairing a classy leather jacket with the stylish mini skirt or wide legged pants, this combination will definitely turn some heads. Fashionista's whether they are in the spotlight or no, they prefer to wear leather jackets with their outfits, it gives them a masculine and this is what some have even confessed.
You can even team your cropped biker leather jacket with a shift dress to give it a more feminine appeal. The skinny pants look great with leather jackets; it is also a kind of uniform that the fashion elites have adorned. Many even swear that they don't even need a leather jacket; but they en up wearing one, well this is the charm of a leather jacket you can hate it but cannot avoid it.
To don the most casual look, it's better to go the men's way and dress like them.  The men style pants offer a more neutral look and combine it with a neck tie, leather gloves and a smart hat for maximum effect.
Pair ankle boots with pleated skirts and pants to go the Britt way. You can even pair a leather jacket with metallic accessories and trendy pump shoes. The idea here is to not top play it safe but be upfront and don the look of the year.
How to invest in a biker leather jacket: –
•    Prefer to opt for genuine leather as they last longer, but are bit expensive.
•    Opt for a fitted leather jacket and go with the one which actually accentuates your waist.
•    Have a clear picture as to what you wish to wear and what you wish to pair it with, always go with universal color of the jacket as they can match any outfit.
Comments