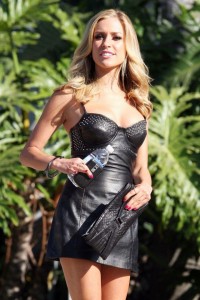 A dress is that exclusive creation which sets apart the girls from the boys; the women from the boys! There are a whole range of dresses for you to explore and delve into. On particular fabric that stands out and is becoming increasingly popular is leather. Leather dresses are smart, chic and elegant. They can be worn to numerous occasions from christening ceremonies to parties to casual evenings out. Beware though – leather dresses are eye catchers and is bound to get you plenty of attention. Pick out a gorgeous leather dress for yourself only if you are prepared to deal with that kind of envy.
Leather dresses come in a whole range of colors and designs and prints. The trick is to pick out one that suits you. If you are blessed with a body like Kim Kardashian, then you could pick out one of those super hot, stretch leather numbers. If a super tight dress is not your cup of tea then there are plenty or options for you. Select a beautiful one piece a line leather dress. It's smart, it looks elegant and makes you look wonderful. Colors are aplenty. You could select from the traditional black or rugged browns and if you feel a little brighter then choose from fun colors like reds, blues, greens, pinks and so on.
Leather gowns are quite fascinating too. Full length leather dresses that sweep the floor look elegant and attractive. Sweep you hair up into a bun, add a pair of heels and carry along a beautiful glittering clutch and you're set to make an impression. Do remember that a leather dress in itself is powerful and attractive. Make sure that you combine it with subtle jewelry. Go light on your make up as well. Leather dresses are smart and you must know how to carry them off. Leather as a material is graceful and lends personality and confidence to the wearer. So when you choose to purchase or wear a leather dress make sure that you carry it off correctly.
Comments