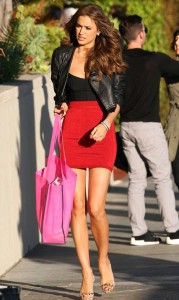 Leather is one constant thing in fashion. It has always existed and always will.  Summers are here and if you are looking forward to making a unique fashion statement, well than leather outfits are the best thing you can vouch for. Every other person you see on street wears denims and cottons. However, leather is a rare fashion statement to make. Create your own fashion statement. With these trendy and chic leather summer outfits, be ready to brag a few eye balls.
The many trends in leather that one can go for are:

Leather Shorts:
Leather shorts are the best thing to wear during summers. It looks classy and sexy. You can flaunt your well toned legs and team it up with a shirt or a tee-shirt. Men can go for leather pants that will give a biker look and still in style. A brown colored leather pants or shorts complement the season while looking up-to-the-minute.
Leather shorts have wider options for ladies because they can experiment with styles and colors. Leather short doesn't have to be ultra short; it can also be knee-length. It can be kept tight or loose, only be wise enough to pick a nice color like red, brown or even white-the best color for summers.
Show your Legs in Leather Skirts:
Summer season is just a reason for women to wear their leather skirts. Leather skirts for girls are very feminine and hot. They also rule the fashion world. They look good a woman of all shapes and sizes. A –line skirts simmers down a lady's heavy hip making it look way slimmer. Some ladies their skirts to be bedazzled, it does look marvelous but only if the girl has carried it off well and sported it with a nice top.
Look Funky in Leather Vests:
Leather vests look good on both men and women. A leather vest worn over a nice tee-shirt and denims look casual and funky. Leather vest also looks good leather shorts. They give a cal and sober look, also worn to office, leather vests look professional.
Comments