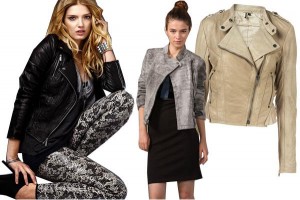 What kind of style would look good on you and what color leather jacket will suit your style? Are the most favorable asked questions asked by many leather enthusiasts…lets clarify a few things as to what you should look in a leather jacket before you purchase the most favorite possession?
Today a lot of styles are offered in leather jackets which is available in many colors and designs for e.g. there are motorcycle leather jackets, bomber leather jackets are just a few to mention.
Look Out for the Trendy Style:
The first thing that you must consider while shopping for leather jackets is to check out the latest trends. The latest trend of the season is the slim leather jacket; classic leather jackets like leather bomber never fade out of style. These leather jackets always comply for the classy look and since the leather industry changes every season so does the leather jacket fashion; to stay up to date on leather jacket check out the on the internet for various styles and trends.
Leather Quality:
When buying leather always keep in mind the quality of leather used. These are various types of leather available like cow hide, lamb and suede which are used to design leather jackets; all these leather have their different advantages and disadvantages. Cow hide leather is more rugged but the finishing of the leather jacket is not that cool. Lamb leather is mostly used in leather jacket designing, to make the jacket look more stylish and elegant this leather is washed and dryed and then polished to give that shinning appeal. Suede leather jackets are cool, but look more formal than casual, now depending on your need you can always select a leather jacket of your choice.
Leather Jacket Fitting:
The leather jacket fit is the most important factor, because it does not make sense if you buy a leather jacket and that does not fit well. Fitting is of utmost importance, to get a proper fit always first try the leather jacket and see to it that its shoulder should align with your shoulders. If you have plans purchasing online then always get your measurements done from a seamstress to give your measurement online. Leather as fabric stretches after some time and if proper care is not taken then it shrinks, so always buy a perfect size and take good care of your leather jacket
Have fun shopping for leather jackets!!
Comments