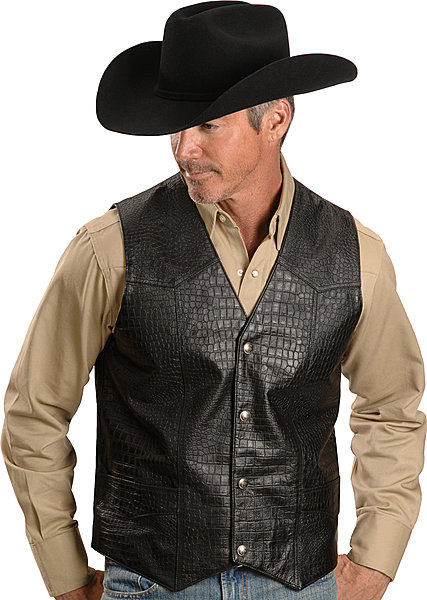 The cowboy vest is synonymous to rugged and masculine and hence obviously been a favorite part of men's wardrobes and has also become very popular among the ladies. These vests are available in quite a few fabrics – the best and most authentic, of course, being leather! A leather vest is available across a number of brands, styles and price ranges and picking out the perfect one can be quite taking.
Believe it or not, a leather vest is available in a plethora of styles. You could aim for the cowboy look while simultaneously using it for a more business casual look. Do remember that while cowboy leather vests are certainly a favorite for casual wear, several styles are also very appropriate for more formal wear and can actually give a business suit that unique touch. The most popular western style vest is made of one of the several types of leather, which consist of cowhide, sheepskin, lamb, suede as well as boar.
For casual occasions, such as farm or ranch work, a lamb skin leather vest will look fantastic and will be the most suitable. They can even be lined with wool or fur for a warmer occasion. Suede vests always look sexy and are a nice touch over denims.
While leather vests are available in plenty in department stores and boutiques, they could burn quite a hole in your pocket. An excellent place to purchase your leather vest is online. You need to check the credentials of the online apparel store of course. Clothing available online is almost always cheaper than what is available in stores. Also, you can browse through a rather large collection – all from the convenience of your own home. Another plus point is that most of these clothes are custom made to your exact size and fit. It is of extreme importance that your leather vest fits your perfectly for the best look.
A leather vest can be combined with denims as well as trousers. You could choose to put a blazer over it, leave it open or button it up. Determine your own style and make a statement.
Comments