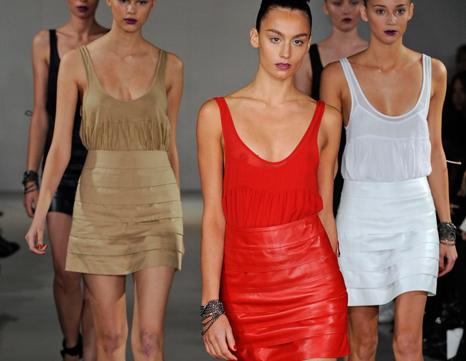 Skirts are always fabulous to look at. A woman in a skirt holds far more sex appeal than a woman in denims or pants or trousers. Skirts hold that unique appeal which makes a woman look stylish and smart and oh so desirable. A skirt is one of the best, attractive feminine attire which is fashionable, comfy to wear and is trendy in all seasons. It is an excellent stylish outfit which helps to disguise certain body areas and at the same time flatters your figure. If that's what an ordinary skirt does then imagine how much more lovable leather skirts are. They are chic, assertive and gorgeous. They come in various lengths and designs just like a chiffon or a cotton or a georgette skirt.
Whatever your body shape or size, a stunning leather skirt suiting your figure can make you look smart and attractive. In order to look your best in a leather skirt it is extremely important that you choose the perfect fit.
There are basically two important guidelines to be followed before you purchase a leather skirt:
•    Length :
Length is extremely important. If you choose to have a leather mini skirt or a knee length leather skirt or a full length leather skirt, the hemline you choose determines your entire look. It is extremely important that you pick the right length of the leather skirt so that it flatters your body shape.
•    Style / Cut of the Leather Skirt:
Leather skirts come fitted as well as flared or mermaid style. You need to pick a leather skirt with the right cut or style suitable for your height and body type. The style that is right for you will help to accentuate your figure and will also minimize the flaws of your figure. Therefore, it is very important to buy the leather skirt with the right cut.
Skirts can do for women what no other outfits can do. They can make a woman like smart, sassy, sexy or a combination of the lot. It's always important to make the right choice from the huge range available. Leather skirts are charming and must be combined right for the best effect.
Comments