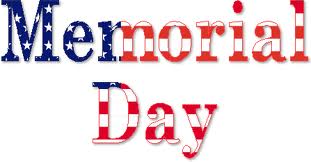 What could be a more fitting way to celebrate Memorial Day than with a cookout? Memorial Day is a federal holiday in the US and is being celebrated as per tradition on the last Monday of May that is the 30th. Some holidays find their origin in religion, while others commemorate an important historical person, while still others honor a particular day or world culture. Memorial Day is the only one holiday, which rose out of appreciation for and remembrance of every person who sacrificed their lives defending the nation. Memorial Day has traditionally been a day of remembering the many heroes who lost their lives during wars in which the United States has been involved. No single place or person can be credited with originating Memorial Day because several communities and towns were dedicating time to decorate the graves of American soldiers and arranging gatherings in remembrance of our nation's heroes well before Memorial Day was even officially declared.
Nowadays, most Americans celebrate Memorial Day as the official kick-off of Barbeque Season. Get ready to warm up the coals, pull out the cooler, and create a spread of summer salads and side dishes. Bring the summer in with a blast by throwing the greatest party of the season. Keep the planning simple so you can focus on having fun and enjoying your guests when they arrive.
If you are no0t busy throwing a party, you will probably be summoned to a barbecue (or two) this month, which basically means lots of food, friends and family. Gear up for the warm weather and great food with comfortable and casual pieces that you can wear all spring long.
A superb choice would be leather clothing. They are smart, light and look brilliant. You could wear a leather combination dress or a pretty leather ruffled skirt. Men can opt for a great leather jacket over their denims. Do remember to add red, blue or white to your apparel. This would be a brilliant compliment to your leather outfit. Leather shorts is another great option for women.
Comments