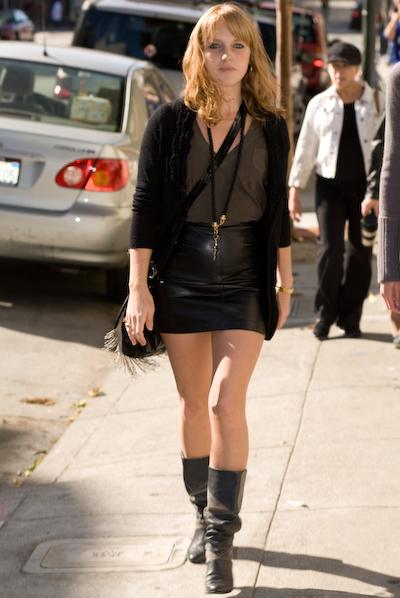 There is absolutely no reason why a woman cannot wear a mini skirt when she wants to! Every single woman has the right to feel attractive about herself and good about her own body. A great mini skirt is an essential in a trendy woman's wardrobe.
A mini skirt in itself is a fun fashion item. Add to it the tangy cheeriness of leather and you have got yourself a definite eye turner! Now a leather mini skirt may not be everyone's cup of tea but for those who do enjoy the trend or are looking to explore it here are a few pointers for you.
It's very important to pick out the right look. There are loads of leather miniskirts available in a plethora of patterns. It is oh so important for you to choose the right one. The classic bias and A-line cuts compliment most women, while the tighter, straight fit variety tend to work best on those long-legged, slender and younger wearers. An ideal option topping the fashion charts right now are the ruffled leather minis. They are superbly feminine and look absolutely ravishing. The space provided makes it supremely comfortable to wear and it matches a whole variety of tops and combinations.
It is so important to combine your leather mini skirt with the right pair of shoes. Remember the mirror is your best friend. Make sure to look at what you think suits the look the best!  Wedge shoes blend quite well with a leather miniskirt since the former's heaviness offsets the shortness of the latter and provides a sort of an "anchor". Another great option are the pointed flat shoes. High heels look quite spectacular too. But the type of leather skirt you choose and the appeal you give off could lead to different intonations.
Leather mini skirts also benefit from the type of top you choose to combine with it. T-shirts tend to work perfectly with most minis. However you must note that the shortness of a skirt can over emphasize a large bust. Hence your choice of top is of prime importance.
Warning: Watch the length and the taste of your leather miniskirt. You may come off as skanky if you pick one that is too tiny for your body.
Comments