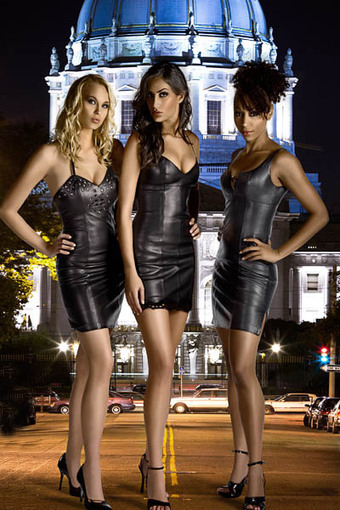 Leather dresses are something that has won the heart of many a woman and are slowly but steadily gaining acceptance. Obviously it has been considered as something of a sensual statement with celebs walking about in gorgeous tight creations. But leather dresses are more than black or red fabrics that perfectly mould the body. A leather dress is about feminism and grace; it's about elegance and a regal beauty that only the freshness of leather can inspire. The added undertone of pure sensuality only adds to the killer combination. The shiny, audacious, stiff and soft material has slowly crept its way into every woman's wardrobe in the form of dresses.
Leather dresses are pretty much like ordinary dresses when it comes to variety. They come in a plethora of cuts, shapes and sizes – halters, back less, off shoulder,  sweet heart neckline, straps, cut off from waist, V or U neck, high slits, navel cut out, floor kissing and so much more. All sorts of colors from the traditional blacks to bright blues, deep greens and even rugged browns have made their appearance. An ideal way of re defining the LBD (Little Black Dress) would be to pick one in leather. Like I said, in terms of variety leather dresses are pretty much the same as ordinary fabrics but when it comes to appearance there is a world of a difference. No other fabric can carry off a personality like leather. Its strong yet subtle, durable yet soft, rugged yet delicate. Leather dresses are a series of contradictions adding that air of mystique!
No matter what your type of body leather is flattering. It's stiff yet soft approach ensures that you can mould the dress to your liking; avoid the parts you don't want it to cling to while highlighting all that you would prefer to. Remember to purchase your exact size. Plus sized girls now have something that they can see on a mannequin and actually try on and experience gorgeous results. Leather has this astonishing quality of being able to make you look deviously sexy, super slim and wickedly adventurous all at the same time!
Comments