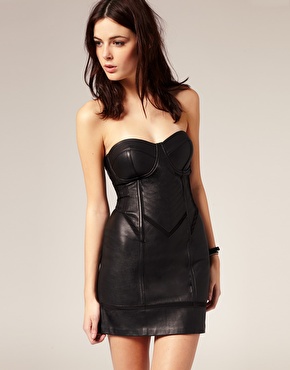 Leather is a lovable material. Of course, it's a delightful irony – soft yet tough, stylish yet practical, durable for years yet always trendy!  With fabric that is so excellent, it's hard to make an ideal choice of what kind of leather apparel is the best to select. Here are a few tips to make you look good and make the perfect choice.
1.    Never combine leather with leather. A leather top looks great; a leather pant also looks fabulous. Together, however they are a fashion disaster. Keep away from mixing leather with leather unless your name is Elvis Presley, Michael Jackson or an aspiring rock star. Leather combines with a variety of materials – leather is not one of them! Leather blended with leather is a major fashion fax pas.
2.    Leather is highly durable. With just the most minimal amount of care, a leather outfit can last for up to 30 years. If you are on a tight budget and you are looking to experiment with leather for its versatility then the best thing to opt for would be a leather jacket. It keeps you warm, lasts for years; it's extremely stylish and remains trendy even 13-14 years down the line. A leather jacket is an excellent buy. Choosing something else like a leather dress or a leather pant could be a little risky in terms of outgrowing it.  However, it would be unfair to undermine the sheer brilliance of both leather dresses as well as leather pants. They look sensational and give off the most appealing look. They hold their very own pedestal in the fashion world.
3.    Leather clothing is of course available in a plethora of colors! Sizzling reds, dashing blacks, austere browns – the choices are infinite – so which do you pick? Choose a color according to your need. If it's only the current fashion that interests you then pick out the most promising color of the season. For those who are unsure of what to pick – black is the way to go! It's traditionally loved and matches just about everything. For those who are looking for something other than black but not too bright, pick among the deeper shades of browns!
Comments