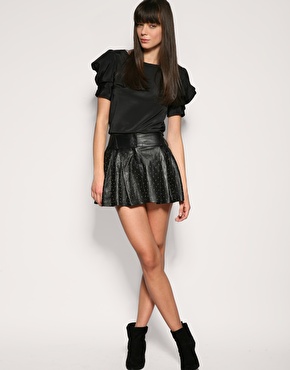 A leather mini skirt is the ideal choice if you are trying to attract attention, given that men really seem to have an affinity for these skirts. With these miniskirts you give a great look at your legs, so when paired with the right high heel sandals, it can make your thighs look gorgeous. With a particular leather skirt, there is little still left to the imagination that definitely grabs the interest of men.
There may be another reason why guys really love a buckskin mini skirt. There is just something with regards to leather that definitely draws the attention with the opposite sex. Leather is a rough fabric and features a smooth and supple surface.
Leather is an undeniably trendy material. Despite having almost earthy and neutral colors, it still grabs attention. There are different colors of leather apart from the usual brown, dark-colored, and grey. Thanks to the latest dying techniques used to dye leather. It is now available in exotic red, trendy yellow and green etc.
When it comes to miniskirts, the basic black skirt represents of extreme hotness, while leather is created in a miniskirt, it brings in addition to it an incredible and exceptional appeal.
Clothing made from leather appears to be more expensive as compared to the other fabrics. The leather miniskirt is versatile and can be combined with various tops and footwear and can also be worn to any occasion.
To know what this little leather mini skirt can do to your loved one; just when you thought of turning him on is an improbable case scenario. Leather miniskirts are definitely a turn on, so it is advisable to use it cautiously.
Care for Leather Apparels: –

•    Wash your leather apparels with saddle soap and do not use regular detergents as they may ruin the fabric.
•    Keep your leather apparels in a ventilated closet as leather needs to breathe or it may accumulate mildew.
•    Use leather conditioner to get rid of mildew.
Enjoy flaunting your assets wearing these sexy leather skirts. Add that bold look and create a new fashion statement wearing trendy leather skirts.
Comments