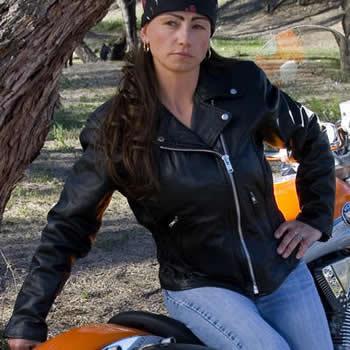 Bikers are often associated with men in leather riding up on their Harleys, making loud raucous jokes, loving their beer and being very very strong. Sadly, in all that imaging of motorcycles, leather, silver headed men with pony tails and bandanas a huge section of bikers are forgotten – the women!  These femme fatales are the one proving years of stereotyping wrong and for heaven's sake just because a woman likes to ride a bike and is good at it – there is absolutely no reason why she should automatically have spiky hair, plenty of piercings and a 'look at me and I'll kill you' attitude! There are plenty of women out there who love their bikes and love their feminism!
Leather motorcycle jackets are built for safety. Most come with a double lining. Leather, by itself, works great against abrasions and does a fabulous job of protecting the wearer in case of a fall. It's tough, durable and works perfectly for a biker. While men have a huge plethora of options when it comes to motorcycle jackets, women have a slightly more limited choice – not to say that it is in any means not enough. In fact, it helps narrow down the choices much faster. Always remember that being a female biker does not make you a sex symbol. A large number of boutiques offer leather riding jackets for women more as an item of style than protection. If you are not a rider and only looking for a trendy jacket then this would work ideally for you. If, however, you are a biker, just plain style will not do!
A female biker has to be rather careful about her choices. Never pick one of those tight flashy jackets. Make sure that the leather jacket you choose is adequately comfortable. It should not be too loose either. Never pick anything with dangling tassels – anything that could get stuck could be hazardous to your life. Always choose a leather jacket with zipped pockets instead of open ones. You do not want your documents or things falling out of your pockets. Remember to choose a jacket that is a subtle blend between protection and style.
Comments