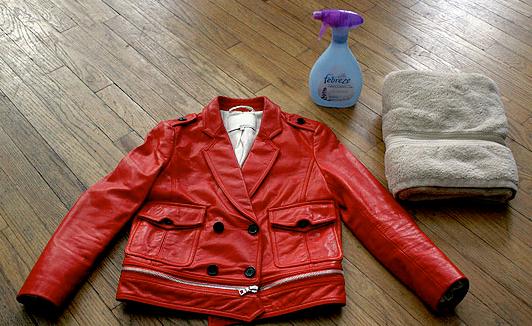 Leather clothing has a life span of approximately 40 years. The fabric is strong; it's rugged and happily protects you from dust, wind, rains, stains, gravel etc. Of course, while nothing really affects the tenacity of the material it does tend to look worn out after a while. At the end of the day, leather is animal skin and skin needs to be cleaned regularly. So how do you get a fresh look and keep your leather jacket healthy?
1.    The most important thing to remember is to check for the manufacturer's care instructions. Just cleaning your leather jacket once a month, on the basis of those instructions, is bound to keep the jacket healthy and happy.
2.    The biggest problem faced by leather jackets is that they dry out and begin to crack. They lose their luster over a period of time. A great way to change this is by using leather conditioner. Just take a soft cloth – preferably nubuck – and rub down the leather jacket with plenty of conditioner. Make sure every nook, cranny and crevice of the jacket gets plenty of conditioner. A single rub down is usually not enough. Always massage in the conditioner into your jacket about twice. This helps clear out the dry patches and brings back life into it. The conditioner also adds shine and flexibility to your leather jacket making it soft and lovely to wear. The color of the jacket may turn a bit uneven after rubbing down the jacket. This, of course, will be barely noticeable. The color change does not have much to do with the conditioner as much as the use of the leather jacket.
3.    Whenever you store a leather jacket, always make sure it is in a cool dry area; do not add naphthalene balls. Always store the jacket on a wide wooden, plastic or padded hanger. This helps to maintain the shape! If you plan to cover that leather jacket while storing it then do so with a cloth like cotton. Avoid plastic. Leather needs to breathe. Materials like plastic do not allow it to do so causing it to dry up.
Comments