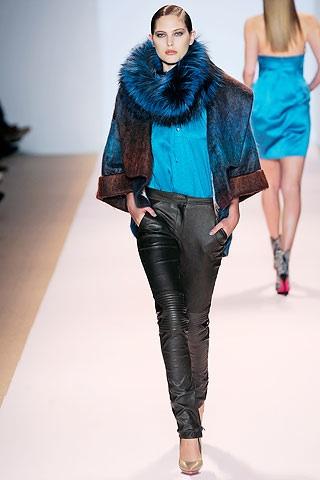 Leather has made it back to the runway and how! Of course it's a teeny tiny bit 'obvious' to walk onto the street in the clothes presented along the runway but combining leather pants are just not that difficult.
Honestly, black leather pants are probably the easiest color to wear and combine and a definite recommendation for those on a budget. Colored leather pants are not too bad either but the traditional color is quite the best mainly because its slimming and does not require careful spot treatment like a lighter colored leather. Another thing to remember is to have an impeccable fit. The pant will stretch out to mould to the body contours eventually so it's better to purchase a leather pant with a snug fit than otherwise. It's horrible to have a sagging pair of pants after breaking them in. howver, do not go overboard with the snugness. A sliver of room between leather and flesh is essential. It does allow a gal to cross her legs, walk, climb stairs and all those other things that legs are meant for.
Once you have purchased the perfect leather pant, it can be worn just about anywhere – even formal occasions – unless your office has a too strict dress code. A great pair leather pants allows plenty of different looks. They can be worn with both high heels and sneakers!
They make for a great date outfit as well! It makes you look sexy without crossing over that thin line into slutty. They are guy friendly, fashionable and rather edgy! Don't forget to make the rest of your outfit soft and feminine. You do not want to look like you're competing with Angelina Jolie for a role as Lara Croft.
A sleek pair of leather pants is a grand way to stand out from the crowd at a cocktail party where majority of the women will be clad in flimsy dresses. Just pair the pants with a great pair of stilettos, a gorgeous sparkly top and a tailored blazer. You can alternatively keep it on or take it off depending on how dressed up everyone at the party is.
Comments