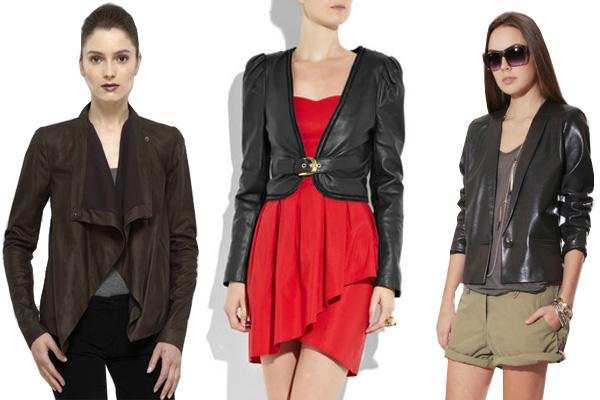 PETA is probably going to have to scream itself hoarse in 2011 thanks to the increased adoption of leather. Leather apparel has made a dramatic entry in 2011. Come to think of it, leather never really left to make an entry but this year everyone from high profile socialites to celebs to normal people have taken to the this beautiful fabric with added enthusiasm.
There is no shortage of leather apparel. Women, like always, have vast choices! So how does one pick the perfect choices? What are the most essential wardrobe must haves? Which leather creation is going to get applause and turn heads?
Leather is not cheap – at least not good quality leather. So before going to buy an outfit makes sure that it's not just a whim but something that you would actually wear after a few years as well. Leather is quite durable. In other words, a gorgeous leather creation is something you will be wearing many years later as well. Did you know that leather outlives denim quite sizably? So pick out your leather outfits with care.
Here are 2 few leather wonders that are bound to grab plenty of attention.
1.    Leather One Piece Dress:

There are of course a plethora of variations from short hemlines ending just below the derrière to ground kissing hemlines. The shorter ones are usually more appealing. For a formal occasion, select a knee length or just above the knees dress. When it comes to parties pick out a gorgeous leather dress with a hemline as high or as low as comfortable.
2.    Leather Jacket:
A woman's wardrobe is incomplete without a gorgeous leather jacket. The first thing to be checked is if you are planning to buy the jacket for style, comfort, protection or a blend of these. If it's only style that you are looking for then select a short waist cropped leather jacket. They look absolutely spectacular. For a combination deal of style and protection (against the elements like wind or cold or rain), choose a leather bomber jacket. The whole concept is sexy and very attractive.
Comments