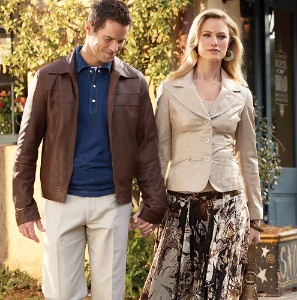 Birds chirping, flowers blooming and love blossoming – yes! Spring is in the air! It's time to get rid of the winter wardrobe and display an all new spring wardrobe. Pull out all those bright colors and march into the smell of fresh life and heavy energy.
It may seem a bit strange to suggest leather in the glorious season of spring since leather is often associated with protection and warmth. Break the stereotype. Leather is about style and sensuality. It's about breaking the old and exploring the new. Here are some excellent fashion styles for men and women to try this spring:
•    Women:
1.    Tank Top + Leather Skirt:

Forget those form fitting leather skirts. Instead pick out a gorgeous ruffled deep brown leather skirt. Combine it with a simple white sleeveless top. Depending on the style of the top and your comfort level you can either tuck it in or leave it loose.
2.    Stylish Chiffon/Cotton Top + Leather Shorts:

If unique is what you are attempting that you can bet that you are going to stand out in leather shorts. Denims and cotton s something everyone is going to be exploring. Think hot pink leather shorts! Combine it with a black tank top or a white bustier or a simple cotton tee shirt. Whatever the choice, you are going to look ravishing.
•    Men:
1.    Leather Cargos + Cotton Shirt:
Combine a pair of tan brown leather cargos with a cool green 3/4th sleeved tee shirt. The blend will look cool and natural – perfect for spring!
2.    Leather vest + denims + tee
A sizzling mixture! A leather vest adds that style quotient that completes the look. It makes a man look suave, attractive and very tempting. The whole denim and leather combination is always an alluring one and a man that attractive is bound to get a lot of heads turning in his direction.
Do not forget to accessorize yourself in what you wear. The shoes, hair etc matter and are very important to complete the look.
Comments