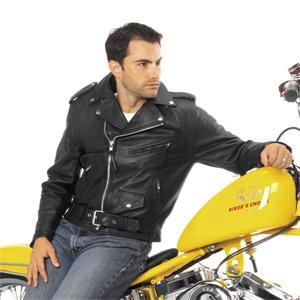 More often than not, the importance of adequate and appropriate motorcycle clothing has been seriously hyped. While most bikers are fully aware of the importance of wearing a helmet and the security it provides, they totally miss out on the appropriate apparel for the rest of their body. After all, in case of a mishap, it's not only the head that may suffer injury!
This is where leather comes in! A leather motorcycle jacket is the ultimate protection when it comes to safe riding. The fabric is strong and takes most of the fall (pun intended); it's durable, practical and lasts for years! The highlight, of course, is the fact that leather motorcycle jackets comes in a wide gamut of styles and ranges adapting to various requirements and situations.
There are a whole range of leather jackets available. It's very important to pick the right one. The leather used in a motorcycle jacket should ideally be very stiff and tough thus providing maximum protection to the wearer. A good quality motorcycle jacket will be carefully tested for burst resistance, impact abrasion, tearing and cuts. Several leather motorcycle jackets come with a double lining to ensure additional safety and protection. Leather lives up to its name and has been conceived from time immemorial as the most conventional and sheltered form of motorcycle clothing.
While picking out a good leather motorcycle jacket, it is very important to check for the fitting. A jacket that is too tight or too loose can be distracting which in turn could be fatal. Always check and see if you can sit comfortably in the motorcycle jacket. While riding a bike one is not standing but in a sitting position. Avoid leather jackets which have tassels hanging out and dangling in the wind!
Bikers usually prefer having leather jackets with pockets so they can store various documents like money or their license, wallet and so on. Ensure that the jacket you purchase has zipped or button flapped pockets to protect these documents. You don't want them flying out or falling out of your jacket while riding!
Comments