Leather jackets stylishly donned by celebrities excite viewers and fashion adherents and urge them to style their selves in similar outfits. This is perhaps the reason why most outfits donned by celebrities are also made available for common enthusiasts through the range of affordable and stylish outfits. It is evident that celebrities are frequently seen donned in leather apparels with leather jackets being their favorite piece of attire. Designer leather jackets are preferred by celebrities and these designer attires are often not affordable for most leather aficionados. Hence, it is essential to have your attention consistently on the latest launch of designer leather jackets which are made available in affordable prices.
Leather jacket fashion among female celebrities: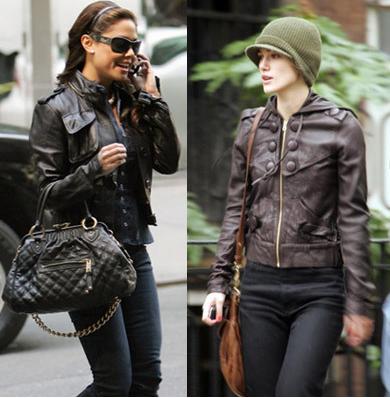 Female fashion of leather apparel is a trend moving phenomenon. Through the flow of time we have seen several celebrities adopting different theme every time they appear on screen. This may be due to the myriad of available options of attires, but your concern is to ensure that you are well updated with current fashion introductions.
While selecting a leather jacket to make you look like a celebrity you need to ensure that the jacket is highly chic and designed with trendy definitions. Celebrities usually find their deal in sheen leather garments which enhances their elegance.
A long cuffed jacket with not too much bedecking on it may also look enchanting, provided the teamed-up outfits should be considerable. For example you can don a jacket along with ripped jeans, white- tees and tunics.
A purple colored sweetheart neck pattern top with appropriate jeans when donned with black colored sheen leather jacket makes perfectly trendy attire which is suitable for celebrity style fashion. The shade of the top is not mandatory to be purple you can try different shade and evaluate which goes well with your skin complexion.
To look more like a celebrity try on wearing black tee- shirt (or any suitable color) with blue jeans adorning it with black leather jacket. Try to wear a jacket with short length measuring just half or an inch above your waist and zip it at the front. Try to wear ankle high boot to make the attire look highly elegant.
Men celebrity fashion:
While quintessential leather jacket fashion is still popular amongst men celebrities, there are also new trendy styles that are coveted amongst these prominent personalities. Initially, these jackets were designed in loose fit; however, the current trend suggestion indicates that slim fit leather jackets are amongst the most enticing jacket silhouette; not only for women but also for men.
These slim jackets can be donned on almost all attire which still portrays. These jackets can be donned on silk material or any other t-shirt with a casual bottom. You must have noticed that most male celebrity add essence of colloquialness in your dressing style. This imparts an elegant and 'easy-going'.
Male celebrities usually wear leather jackets on shirt and jeans and adorn the look with a leather jacket or also sometime leather vests. They further enhance the chichi of the attire by draping a scarf around the neck and with a hat such as fedora panama.
Comments