The fashion industry sees leather as heterogeneous attire which adopts different look to rock the ramp. Leather attires are fave for most fashion adherents due to the finely crafted silhouette and various patterns to flaunt the style. Interesting fact is that with the drift of season leather fashion garments enjoys significant changes not only to suit the season but also to make wearer look stylish. In the course the fall fashion trends invites a whole new range of leather fashion attire with impressive patterns and themes. For leather fashion aficionados it is important to set their gaze on latest releases in order to don attractive and practical leather garments.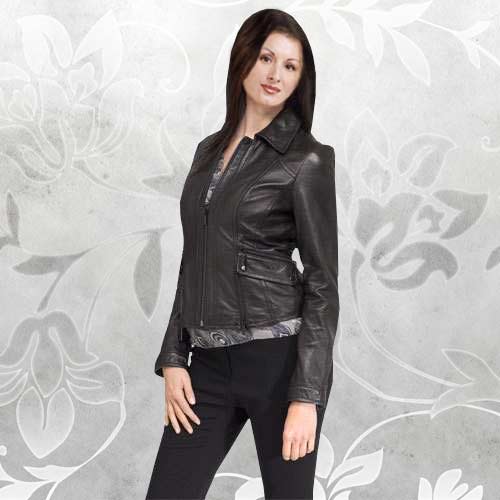 Ones insight of the inspirational leather fashion collection must also include highly chichi and finely sculpted fashion trend garments bedecked with complex structures, impressive tailoring and exquisiteness of the caliber fabric. Below are some tips brought to you directly from the ramp of latest releases from the leather fashion industry.
Semi leather attire for fall 2010:
Semi- Leather apparels are attire which has either the top or the bottom designed out of leather, rather entirely leather garment including top and bottom. Trendy leather pant from the runway of 2010 fall fashion fair makes ideal semi- leather attire for feminine sect of leather enthusiasts. These leather pants can add allure to your look making you grab gazes of viewers while you stroll down the streets. You can don suitable tunics, shirts, jackets, etc which your leather pants and define your A- Style fashion clothing sense for the season.
Fur coats:
Fur coats make sensible and stylish appearing attire for the season. The fall fashion release for leather garments also recommends fur leather coats which is capable of enhancing the look of the wearer and add the essence of trendiness. These coats are obtainable in different designs and shade in both short length and knee length patterns.
Donning a rock chic look:
Rock chic attires did not fail to enchant the fashion world ramp. These attires can work wonder even when don to streets or happening events. A one piece rock chic short length dress is enough for you to make heads turn when you move along in style. A deep neck, sleeveless or capped sleeve leather rock chic dress with asymmetric pleats at the short length skirt can make you look lusciously attractive. Seam line detail or full or mild fur outline on the dress can do magic.
Leather leggings for rock chics:
Leather leggings are inevitably attractive bottoms which comprehensively makes a rock chic look. Legs embracing leather legging when don with suitable unbuttoned jacket and inner tops will make you look distinctly alluring. This is not done yet as you may also need to wear appropriately suitable boots to compliment the entire attire.
The aforementioned suggestions are latest fall fashion trends which can be donned on any casual occasion or regular leisurely walk down the town. These attires are guaranteed style statements which can never fail to flaunt your fashion sense.
Comments