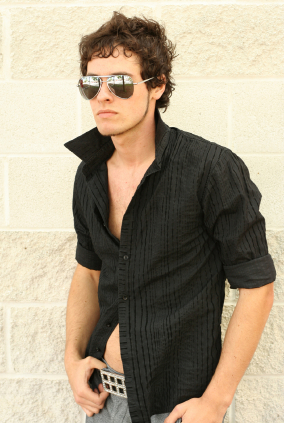 Fashion has evolved over the years and it has a strong influence on men as well these days. The metro sexual man has no inhibitions when it comes to trying and experimenting with new styles. There are trends and styles galore that would complement the contemporary man's personality and endow him with various options. Futuristic trends have been ruling the roost and umpteen combinations and designs are thronging the fashion arena.

Mix and Match
One needs to combine, mix and match and experiment to achieve an individual look. Pinstripes, checkered styles, retro styled polka dots are a few recent styles that are not only taking over the streets but also an increasing number of men's wardrobes. If you do not mind the whole 'teaming up' process, you can always pair up a pair of smart denims with a plaid patterned shirt which has tabs on its sleeves. Even leather pants are all the rage lately. A pair of skinny leather pants when combined with plain funky colored tees is sure to impart a very trendy and youthful look to your persona.
Asymmetrical Styles
Asymmetrical styled attires is almost on everybody's wish list these days. They look unconventional and super stylish. They also impart a very refreshing look to your personality. Asymmetrical leather jackets look super chic on men.
Semi Formals
The semi formal look is the most comfortable and stylish look that every contemporary man is opting for these days. Team up smart khaki pants and a white linen shirt and you will be all set to be the centre of attraction at your workplace. The semi formal look makes you look fantastically edgy. Increasing number of men these days have started donning leather blazers to their workplaces. This look has definitely got thumbs up from a majority of men out there.
Bright colors
Bright colors have definitely struck a chord with a majority of young fashion enthusiasts out there. Every body loves vibrant colors but very few have the spunk to carry it off. Right from bright colored canvas shoes, tees, shirts, jackets etc; give your wardrobe an extreme revamp and you will be all set to create an impression wherever you go.
Gothic Look
The essence of a true gothic style has inspired many fashion enthusiasts till date. If you don't want to get into the nitty-gritty's of this style and just want to flaunt a casual gothic look, then a quintessential black leather jacket is a must in your closet. Get a Mohawk styled cut and you will be all set to look like a gothic style icon.
Comments