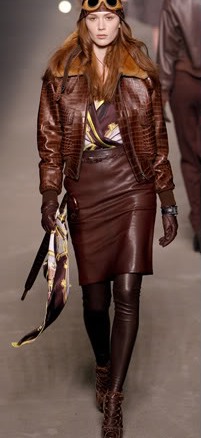 'International Youth Day' is a global event organized to commemorate the contribution of the youth in myriad fields these days. This supremely confident young generation is high spirited and enthusiastic. They know how to carry themselves and put their message across to people who matter. There could be no other fabric other than leather that is so closely synonymous with the personality of this intelligent and passionate clique. There a variety of leather apparels available these days, which endows the youth with enough options to experiment and choose. It is a very versatile form of clothing and can be teamed up accordingly for a chic and a stylish look.
Youth Day is a significant day for young people and there could be nothing better than leather if you really want to create a statement. It would help flaunt your individuality and make you look supremely stylish at the same time. Pencil skirts, skinny leather pants, funnel collars , double breasted jackets, asymmetrical and notch collared jackets are a few options young girls can opt for on this big day. A-line leather skirts and asymmetrical patterned jackets are quite a lot in demand lately and would be apt for girls who aren't hesitant in trying bohemian patterns.
Young dynamic men can opt for patterns like band collared jackets, front zipper closure, nickel studded and epaulet shouldered jackets, rugged tight fitted slim fit leather pants, stylish leather shirts etc. The crinkle textured jackets are very much in vogue lately amongst the youth. The strong and resolute personality of the youth is best highlighted with classy leather apparels. You can't go wrong with this style.
Making a power statement becomes quite imperative especially when you really want to be heard and want to prove yourself. You can try wearing a plain leather tee with a shirt collared style if you want to flaunt a casual look and get noticed at the same time. If you just want to network around, a plain front zipper closured jacket would complement your casual personality and give you the much needed confidence to sashay around in style.
There is an adage that goes like, 'firstimpression is the last impression' and it really matters how you create that impression on an important day like youth day. Leather apparels would be the perfect choice for you to flaunt and give you the much needed boost to go ahead on a networking and communicating spree.
Comments