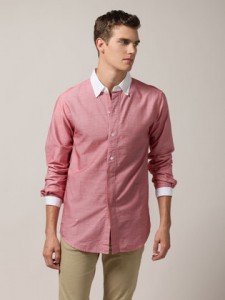 Till years back no one has heard of contrast collar shirts. They were altogether an unheard thing. Even if they would have appeared nobody would have accepted them as fashion. It's so because that was different time. Fashion taste of that time was also very much different than that of today. But nowadays contrast collar shirts are hitting fashion markets. They have made their great place in men's wardrobe. Contrast collar shirts are great buzz this time.    
Fashion is inconstant and never remains same. People always want something new and keeps exploring fashion. Thing which was never expected before has become fashion today. This is what fashion in real. Contrast collar shirts are completely a new creation of which no one has thought before. They perfectly match with the definition of 'fashion'. Also they have got great affection of men. Contrast collar shirts are very fashionable to look at and also look elegant. Just they need to pair with right outfit for profound look.    
Contrast collar shirts are good at lending younger look to men. Pair them with jeans and find yourself. For office, pair them with dark color jacket and you are all set to rock. If going for a casual night out party or formal party pair contrast collar shirt with fitting trouser is the perfect match. This combination will lend chic and elegant look to men. If going to club or night out party then wear dark color shirt with contrast collar and team it with dark color jeans. These ways if men wear contrast collar shirts will surely grab everybody's attention.
If till now you have not tried wearing contrast collar shirts certainly try it. This fashion will surely appeal you. These shirts are hottest in trend this year and are very good at making strong statement. Men, these shirts are very creative creation for you and will raise your appearance to heights.
Comments